Indoor Climate Management as a Service
Improve indoor air quality, reduce energy consumption and save time with indoor climate management. The solution is delivered as-a-service for maximum convenience, resource efficiency, and deployment speed.
What is indoor climate management?
Indoor climate management is a solution for monitoring & optimizing indoor conditions in large building portfolios. Freesi combines measured indoor air quality data with hyperlocal tenant feedback to provide actionable insights on where and how to improve indoor conditions. Overall, we make understanding your buildings' indoor air quality easy for you. We help you to take the right action at the right time to ensure healthy indoor conditions, reduce energy consumption, and lower building maintenance costs. This way, you can make your buildings more healthy, sustainable, and desired by tenants.
Indoor climate monitoring provides a peace of mind for property owners, managers and tenants. No more guessing: know exactly where and how to improve the indoor air quality in your building portfolio. Our AI-powered analytics software monitors the data for real-time risk management, and advanced visual analytics ensures easy interpretation. Indoor climate management is a scalable solution for large building portfolios to implement data-based decision-making.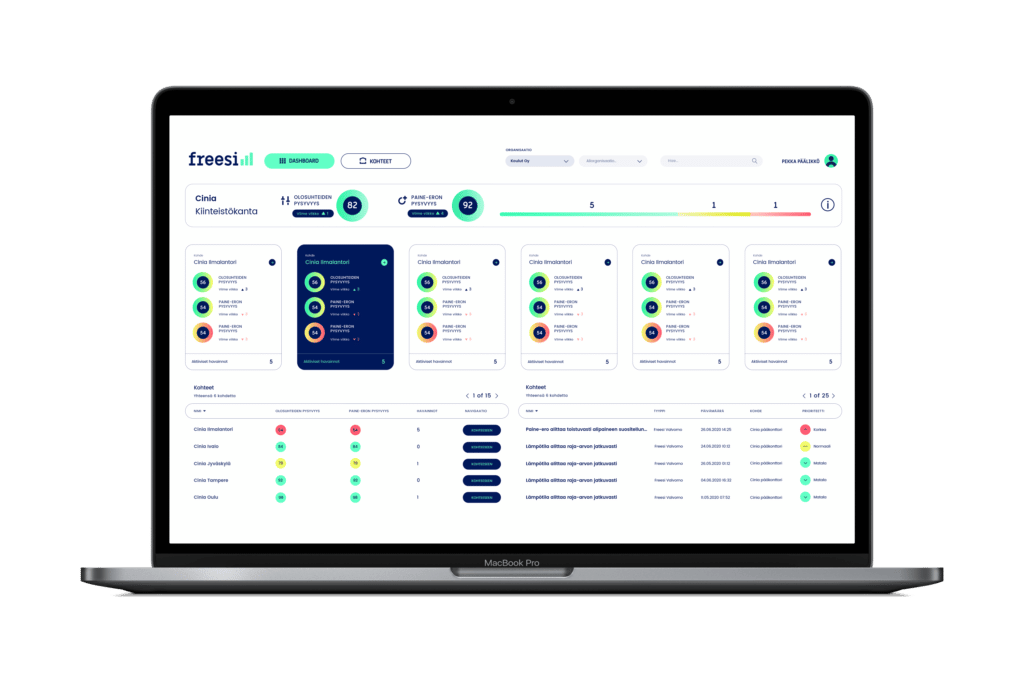 Why indoor climate management matters?
Healthy indoor conditions are in everyone's interest. People spend on average 90% of their time indoors, and good indoor air quality supports wellbeing and productivity of building users: tenants, colleagues, and students. Indoor conditions affect person's mood, comfort level, and alertness. Poor indoor air quality can cause headaches, joint pain, and fatigue, and it can encourage airborne virus spread and increase susceptibility to colds and respiratory illness for an example.
85% of tenants rates indoor air quality as the most important criteria for rental premises. Hence, for property owners and managers aiming to maximize the return on invetment on their properties, tenant satisfaction is crucial. Moreover, it is five times cheaper to keep clients than it is to generate new ones, and this same concept applies to property owners/managers and their tenants. Hence, indoor air quality monitoring is essential part of smart building management to ensure tenant satisfaction.
Besides ensuring safe and healthy indoor conditions, indoor climate management lowers building maintenance costs up to 30%, and reduces energy consumption in buildings. Furthermore, with the current energy crisis and increasing energy prices in Europe, energy efficiency is more important than ever. However, you have to find the right balance between energy efficiency and healthy indoor environment. Indoor climate management provides the tools to optimize energy consumption without compromising indoor conditions, to ensure tenant satisfaction and prevent indoor air quality issues.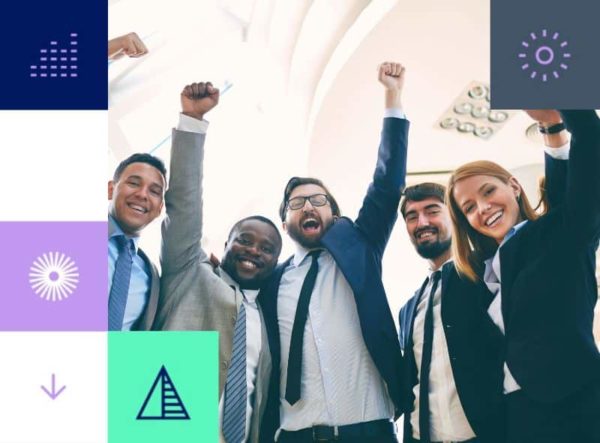 Make your building portfolio healthy, sustainable, and desired by tenants with indoor climate management.
Improved indoor air quality & healthy indoor conditions
Reduced energy consumption
Reduced building maintenance costs
Indoor climate management process – How it works?
First, we collect indoor quality data from the building portfolio with IoT sensors or through building automatio system API. Then, we bring all the data to our FreesiCloud analytics software, where you can easily interpret the data with advanced analytics tools. Third, for effortless risk detection, we utilize AI to monitor the data. And fourth, we provide actionable insights for our clients to find out where and how to improve. These different stages of the process are presented in more detail below.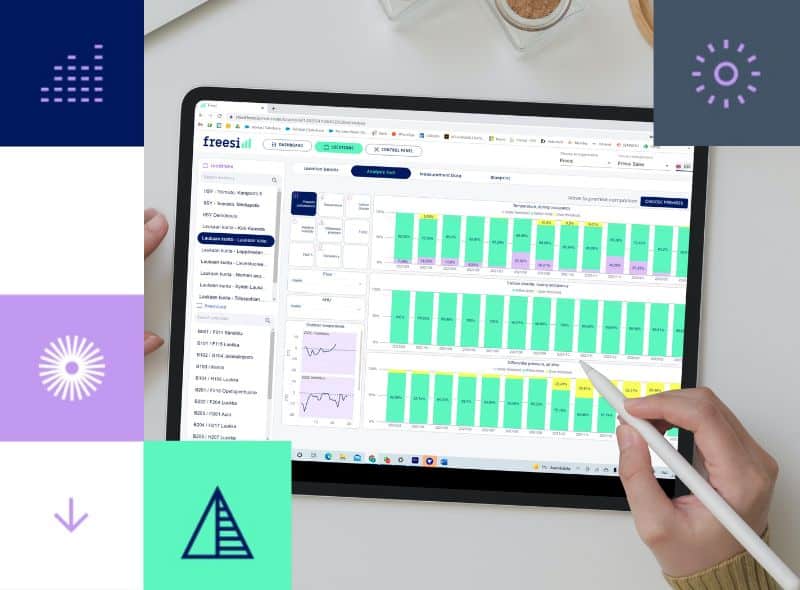 1. Data collection
There are to options to collect the data from the buildings.
IoT sensors – With the new technology, indoor air quality data can be measured with IoT sensors inexpensively from any building regardless of the property's age or the building technology. The most typical variables measured are: Room Temperature (°C), Carbon Dioxide (CO2), Relative humidity (RH), Barometric pressure, Volatile Organic Compounds (VOC), and Particulate Matter (PM).
2. Building automation system API – In some modern buildings the indoor air quality data can be collected through building automation system. We are able to connect to the majority of building automation systems like Siemens Navigator, Schneider EcoStruxure Building, Fidelix Cloud, Caverion Drive (SmartView), Honeywell Niagara (ARE Sensus, Centraline ArenaNX, Trend Control IQVision), Ouman Ounet, and Granlund Manager (Metrix).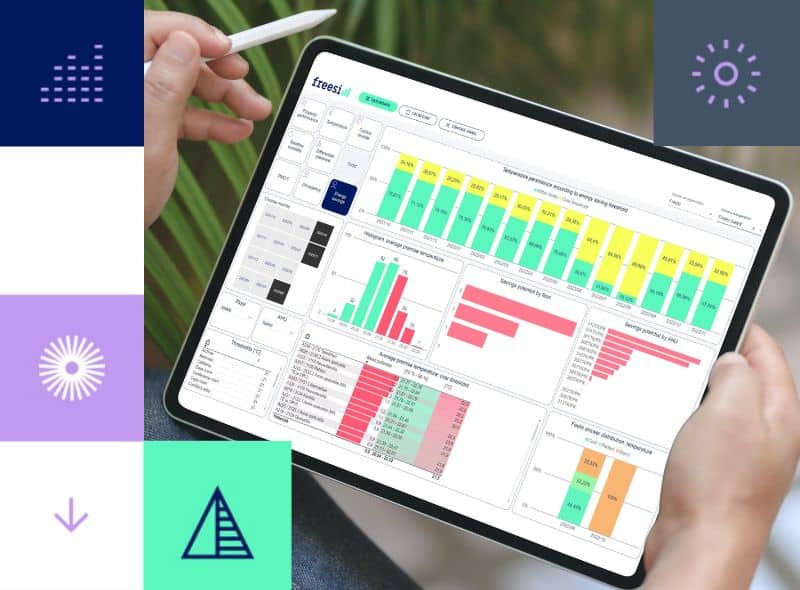 2. Data visualization & analysis
Analyze & interpret the indoor air quality status in your portfolio with FreesiCloud software. Find out immediatey where and how to improve, and take data-based decisions.
Advanced analytics tools to understand the data
Technical activity tracking
Indoor air quality reporting features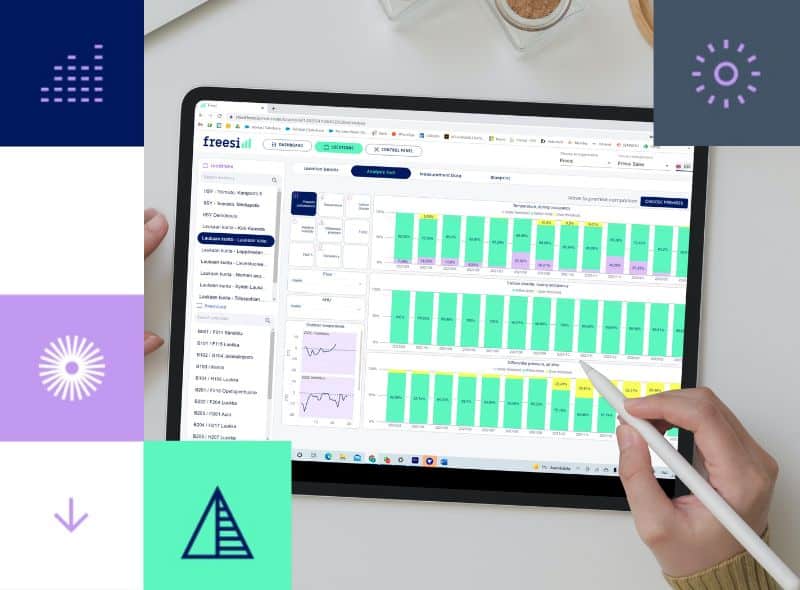 3. Risk detection
To make indoor climate monitoring more effective, we utilize AI to detect indoor air quality risks and save time from manual monitoring. To ensure actionable high-quality insigts, our team of engineers goes over the notifications and informs the client when action needs to be taken. This way, we can make indoor climate monitoring effortless even in large building portfolios.
Continuous risk detection
Intelligent actionable notifications
Maintenance book tickets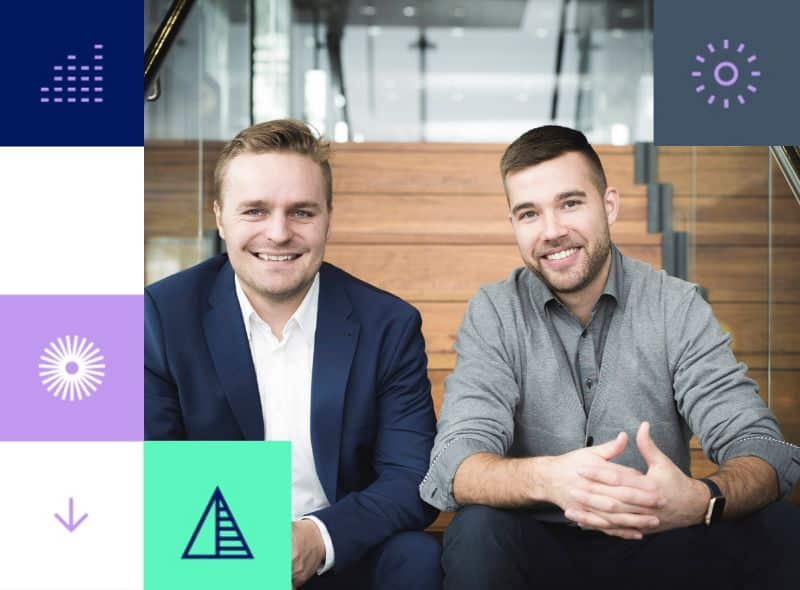 4. Continuous development
Freesi has a team of experienced engineers specialiced in indoor conditions, HVAC, and building automation, providing indoor air quality workhsops to go over the indoor conditions in client's building portfolio and giving actionable suggestions on where and how to improve. Moreover, we will monitor the success of the measures to verify the aimed outcome. This is a popular additional service with our clients to save time.
Engineer's improvement suggestions
Activity success validation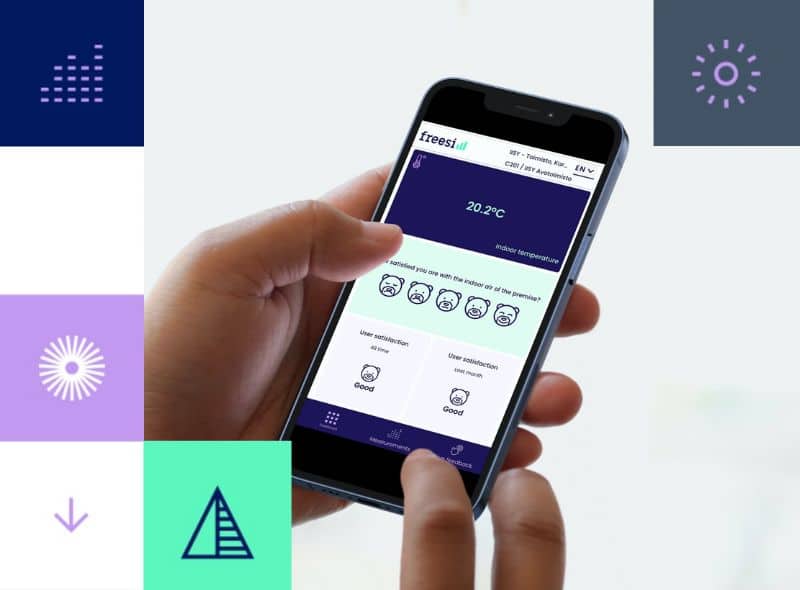 5. Tenant experience
One of the many unique features on FreesiCloud is combining user experience data with measured indoor conditions. Tenant satisfaction. Our easy-to-use real-time feedback system is easy to install.
Real-time feedback
User portal to give premise specific feedback, simple display view for info screens, and advanced analytics tool for
Why choose Freesi as your indoor climate management service provider?
Freesi provides Europe's leading solution for monitoring & optimizing indoor conditions in large building portolios. 180+ real estate clients have already chosen us as the indoor climate service provider, and our award winning solution is already deployed in 2.000.000 m2 of building area in public sector, commercial real estate, and construction. Freesi is the choice for monitoring and optimizing indoor conditions in Finland and around the world.
Freesi is a comprehensive & scalable solution to monitor & optimize indoor conditions in large building portfolio's to ensure healthy indoor conditions, to reduce energy consumption, and save time. Freesi is more than an air quality sensor or HVAC optimization provider. Our AI-powered software visualizes indoor air information in an easy-to-understand format, and provides actionable inisghts to see the overview of the indoor air quality status in your building portfolio. Easy reporting.
We believe that indoor climate monitoring & optimisatio should be as easy as possible for our clients, and we understand the challenges of deploying a new service in your building portfolio. We will help you in the onboarding process from the beginning to end to ensure successful implementation. The service can be deployed regardless of the building's age or building technology at any stage of the property's life cycle. Thanks to the easy implementation, our solution scales quickly to even large global real estate portfolios.
Our ambitious team strives to be the best indoor climate management service provider in the market. We're awarded as the building management technology solutions provider of the year 2021 & 2022. We keep evolving.